Discover the wonders of pairing sake with seasonal cuisine
We are a restaurant where you can enjoy the beauty and pleasure of the season with an exquisite combination of food and Japanese sake, located in Ikejiri Ohashi, Tokyo.
Akiko, an English-speaking sake sommelier having WSET® Level 3 Award in Sake, selects the right sake with light sake cup and right temperature to go with dishes cooked by Chihiro who is an experienced chef at the launch of Hong Kong's sake paring restaurant GODENYA.
We run also a small shop where you can purchase sake, fermented seasonings and sake cups.
We serve each dish with sake or a non-alcoholic drink to enhance the flavor of the dish.
The non-alcoholic pairing course includes drinks that utilize tea leaves and herbs from around the world, a variety of fruits and vegetables and their broths, fermented beverages and spices.
Please choose one of the following when you make a reservation.
– All sake
– All non-alcoholic
– Half sake and half non-alcoholic
(3-4 glasses of sake, 3-4 glasses of non-alcoholic beverages)
Please note that we may not be able to accommodate requests for non-alcoholic drinks on the day of the dinner, depending on the state of preparation.
Ingredients and seasonings produced by producers who continue to search for the best have individuality and power. We are grateful for the opportunity to have encountered them, look carefully at the ingredients, and prepare and cook them in such a way that their appeal can be better appreciated.
We mainly use seasonal vegetables, seafood, and red meat such as wild game (Japanese deer, wild boar) and ostrich meat from reliable sources.
No chemical seasonings are used.
We use as little sugar as possible, so that you can feel the natural sweetness of the ingredients.
Our course changes according to the season of the ingredients.
We change courses in the first half and second half of each spring, summer, fall, and winter.
We offer two types of pairing courses.
<Seasonal course>
Sake or non-alcoholic pairing : JPY 13,600 including tax, excluding service charge.

<Medetashi course>
Sake or non-alcoholic pairing : JPY 18,200 including tax, excluding service charge.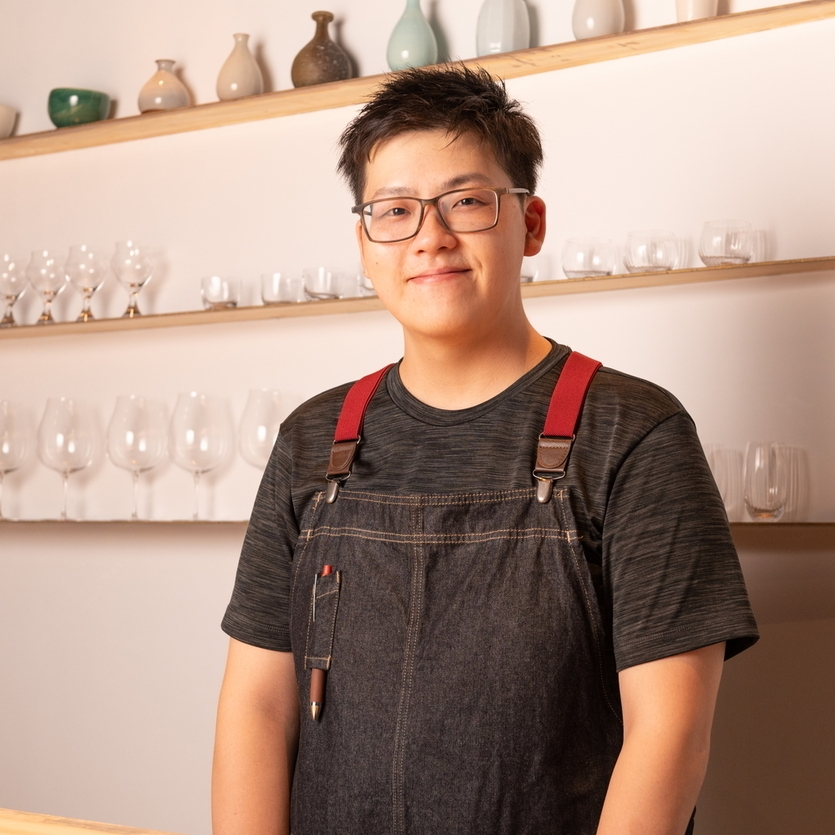 Born in 1987, from Aichi prefecture.
His parents' house manages several fresh fish stores. He was also involved in the business of his parents' house and learned practically how to fish, how to handle fish, and cooking methods. He says that he loved cooking when he was little.
In 2011, together with his elder brother Shinya, opened a restaurant called "Goden-ya" in Oshiage, Sumida-ku, and started a full-scale cooking journey. He learned how to cook ODEN and French food by himself. In 2013, "Godenya" moved to Kyoshima, Sumida-ku, and became a hot topic in the marriage of sake and food, which was still rare at that time, and was featured on TV and magazines. In 2015, they moved to Hong Kong and opened "GODENYA Hong Kong" to promote the goal of "making sake into the world's food drink".
Course dishes that incorporate elements such as Japanese, French and Cantonese cuisine, the style of pairing one type of sake for each plate by changing the temperature, warming method and vessel, attracted much attention in Hong Kong. Opening for 3 months It has become the best 15 restaurant in the famous media in Hong Kong, and has become a popular store that cannot be booked for several months. After returning to Japan at the end of 2016, he worked as a chef for the beer bar "sansa" in Akasaka, where he worked on a pairing course for craft beer.
5 min walk from Ikejiri Ohashi station
5th floor of a red building on Route 246
CRIMSON ONE 5F Ohashi 2-16-26, Meguro-ku, Tokyo 153-0044
By Train :
Tokyu Den-en-toshi Line Ikejiri Ohashi station is the nearest station. 5 min walk from North Exit
Tokyu Toyoko Line / Tokyo Metro Hibiya Line Nakameguro station  17min walk or 10min taking the Tokyu 渋41(SHIBU 41) bus and getting off at the Ohashi bus stop
JR Yamanote Line / Tokyo Metro Shibya station 21min walk or 12min taking the Tokyu bus and getting off at the Ohashi bus stop
Medetashi is on the 5th floor of a red building with "Mishuku no Sushi En Bettei" on the 1st floor.
The elevator is located at the far left side of the building.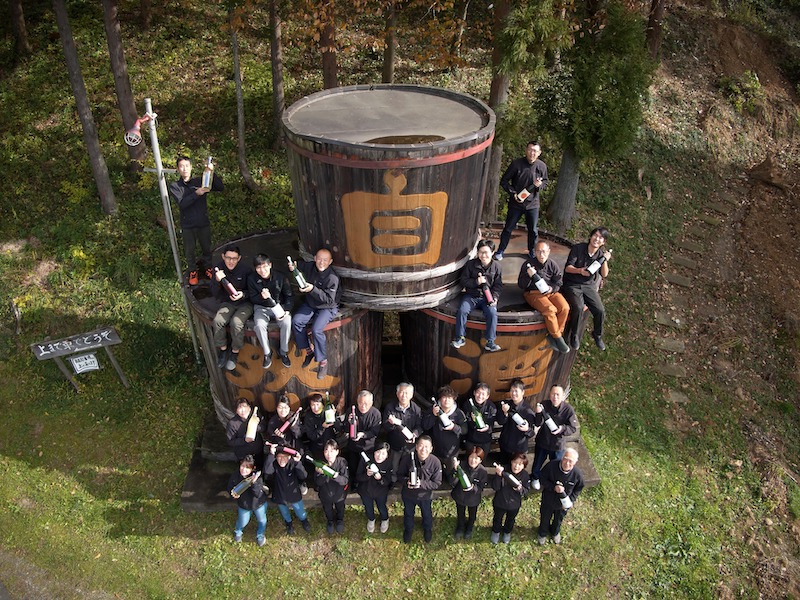 With the mission of "becoming a sake brewery that protects rice fields in Japan," they achieved 100% junmai brewing & 100% Shizen-mai rice(non-fertilization / pesticide-free rice) usage rate in 2010, and 100% natural Shubo in 2013.
They are engaged in a wide range of activities regardless of brewing, such as holding "rice paddies" to protect rice fields in Japan and developing amazake and original sweets products that fully utilize the power of natural rice and fermentation.
In order to protect the water prepared from the company's premises, they are also working on the management of their 100ha mountain. Actually, the counters and tables of "Medashi" are pine trees felled from the Niida Honke's mountain. Niita Honke has been making various efforts for the whole region over 100 years future. They are currently working on how to make a wooden barrel with its own cedar and brew sake with that wooden barrel. We will keep an eye on it in the future.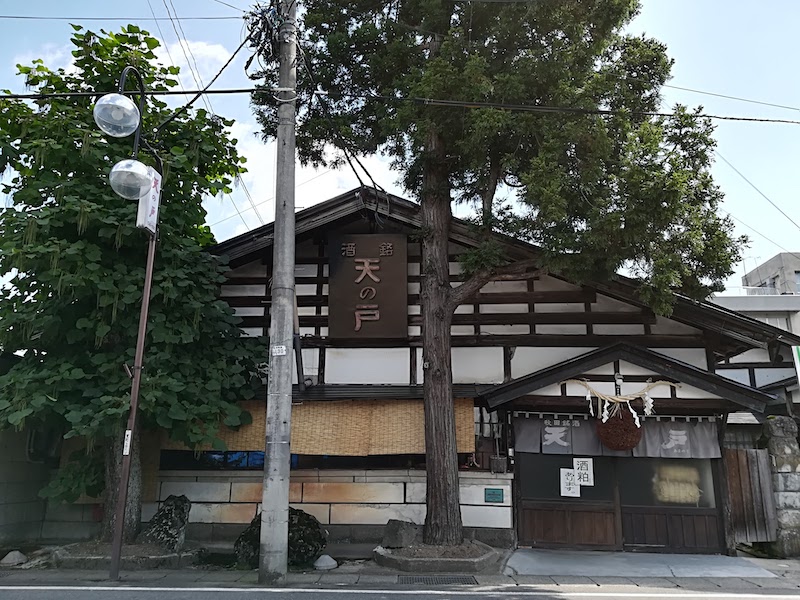 Asamai sake brewery is located in the middle of the Yokote Basin, in the south of Akita Prefecture. Water from the Minase and Naruse rivers, which originated in the Ou Mountains, pour in and springs are created here and there. The brewing water "Biwanuma Kansen" is one such spring. With the motto, "Sake is born from rice fields," they have been cultivating rice in the rice fields within 5 kilometers of the brewery since 2011, and only Junmai is prepared. They use only rice from the farmers of the JA Akita Furusato-Hiraka-cho Sake Rice Study Group, which makes the blessings of light, wind and water into the crystal of sake rice.
The style of working in the rice fields in the summer in the rice field and working in the brewery in the winter in the brewery is expressed by the term "Natsuta Fuyuzo", and the person who embodied it himself was Koichi Moriya. Many people have been influenced by the attitude that rice is regarded as "rice seed" and that sake is cherished with great care. They have been learning the know-how of black koji and white koji from the interaction with Omure Toji of Taikai brewery, a Shochu brewery in Kagoshima, and brewing sake that makes full use of their individuality. Asamai sake brewery is a sake brewery with an inquisitive spirit of inquiry.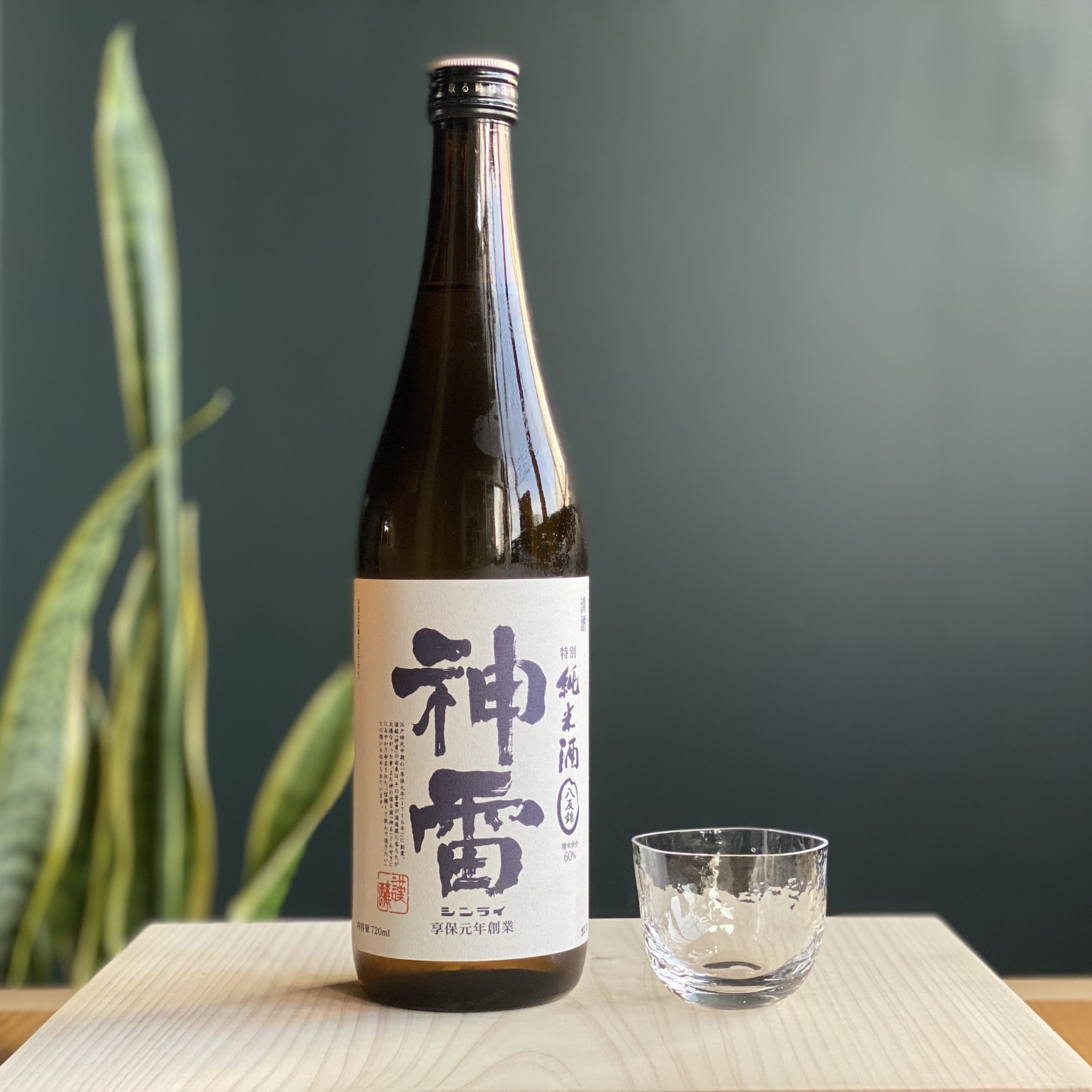 Miwa sake brewing company is located very high-up at an altitude of 500 meters above sea level and buried deep in the mountains. It's very cool and pleasant in the summer and it's blanketed in snow in the freezing cold winter. This climate is ideal for producing sake. The cool summer makes for an excellent storage environment and extreme cold of the winter is an extremely important factor for the production of sake.
Another important factor for the production of sake is Water. They get two kinds of water. A soft water from a shallow well in the nearby mountainous area and hard water from a deep well at the brewery site.
They use two different kinds of water to suit various brewing processes.
What's MEDETASHI?
On July 17, 2020, we opened "sake restaurant & shop Medetashi" in Ikejiri Ohashi, Tokyo. At the restaurant, you can enjoy innovative and creative dishes that use organic ingredients such as organic ingredients, and pair with sake and non-alcoholic drinks. There is also a small shop where you can purchase sake and seasonings used in the restaurant.
restaurant & shop name "Medatashi" is old Japanese. It is also used in old Japanese literature such as Makura no soshi and Heike Monogatari. Basically, it means to love someone/something very much. "Wonderful" "Stunning" "Great" "Glad" "Celebrate" And so on.
At "Medashi", the chef loves to tailor the ingredients carefully grown and harvested by the producer.
Then, along with the sake brewed carefully by the sake brewery, it is placed on plates made by the artist and served.
We are really surrounded by many things now. It's too efficient to get it, and it's common to think of it, but if we look and listen to each and every one of them, we will find that they are precious and special. I feel that "loving" means recognizing each things individuality and complimenting their wonderfulness.
Only the things that come from someone's thoughts and actions can be found in the our place.
We hope that guests who eat and drink them will have a time to love themselves.